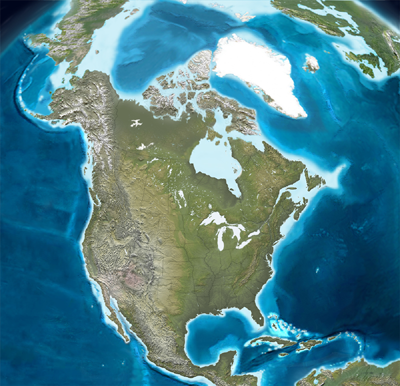 Geografi ; natur og klima ; demografi ; historie ; krige ; kultur ; film ; musik ; politik ; politiske partier ; forsvar ; fredsbevægelser ; religion ; sociale forhold ; uddannelse ; økonomi og våbenhandel.
Geography, nature and climate, demographics, history, wars, culture, film, music, politics, defense, peace movements, religion, social issues, education, economy and arms trade.
Géographie, la nature, la démographie, histoire, la culture, la politique, la défense, les mouvements pacifistes, la religion, les questions sociales, l'éducation, économie.
Geografía, naturaleza, demografía, historia, cultura, política, defensa, movimientos por la paz, la religión, las cuestiones sociales, la educación, la economía
Geographie, Natur, Demographie, Geschichte, Kultur, Politik, Verteidigung, Friedensbewegungen, Religion, Soziales, Bildung, Wirtschaft.
North America
Geografi: Nordamerika består af følgende stater:
Antiqvitates Americanæ sive Scriptores Septentirionales rerum ante-Columbianarum in America / Samling af de i Nordens Oldskrifter indeholdte Efterretninger om de gamle Nordboeres Opdagelsesrejser til America fra det 10de til det 14de Aarhundrede. / : edidit Societas Regia Antiqvariorum Septentrionalium, C. C. Rafn. - Hafniae : typis officinæ Schultzianæ. 1837.
Indvandring: Afrikanere, asiater, europæere,
Minoritetsgrupper og oprindelige folk / indigenous peoples: Indianere.

International Migration in the Americas: First Report of the Continuous Reporting System on International Migration in the Americas (SICREMI) 2011.
p.; cm. Includes bibliographical references. (OEA Documentos Oficiales; OEA Ser.D)
- http://www.oecd.org/migration/48423814.pdf
Historie: Palæontologi: Laurasien.
Oldtiden. Stenalderen / Stone Age. Bronzealderen / Bronze Age.
Før Columbus. Helleristninger / petroglyph.
Økonomihistorie: The American negotiator, or, The various currencies of the British colonies in America; as well the islands, as the continent [microfilm] : the currencies of Nova Scotia, Canada, New England, New York, East Jersey, Pensylvania [sic], West Jersey, Maryland, Virginia, North Carolina, South Carolina, Georgia, &c. and of the islands of Barbadoes, Jamaica, St. Christophers, Antigua, Nevis, Montserrat, &c. reduced into English money, by a series of tables suited to the several exchanges between the colonies and Britain, adapted to all the variations that from time to time have, or may happen : with tables reducing the current money of the Kingdom of Ireland into sterling, and the contrary, at all the variations of exchange : also, a chain of tables for the interchangeable reduction of the currencies of the colonies into each other, and many other useful tables relating to the trade in America (1765).
- http://www.archive.org/details/cihm_35206
Tekst:
TV
Biblioteksvæsen / Libraries. Bogvæsen / Books:
Tekst.
Aviser / Newspapers / journaux / Prensa / Tageszeitungen
Tidsskrifter, periodica / Journals, periodicals / Revues spécialisées, périodiques / Revistas, publicaciones periódicas / Zeitschriften, Periodika
Kunst / Art
Helleristninger / petroglyph.
Film / Movies / cinéma / Cine / Filme:
Filmhistorie:
Undervisning i film:
Producentselskaber:
Filmografier:
Tekst:
Lovgivende forsamling:
Valg:
Tekst:
Aktuelle og historiske politiske partier / Current and historical political parties
Fredsbevægelser: / Peace movements / les mouvements pacifistes / movimientos por la paz / Friedensbewegungen
Sociale bevægelser, herunder miljøorganisationer / Social movements, including environmental organizations:
Naturresourcer: Naturgas ;
Våbenfabrikker, våbenhandel og våbentransporter / Weapon Factories, arms trade and -transport / Les fabriques d'armes, le commerce des armes et de transport:
Se også: Amerika ; Caribien ; Latinamerika ; Mellemamerika ; Messoamerika ; Sydamerika ; Vestindien.
---
Send kommentar, email eller søg i Fredsakademiet.dk