Geografi ; natur og klima ; demografi ; historie ; krige ; kultur ; kunst ; film ; musik ; politik ; politiske partier ; forsvar ; fredsbevægelser ; religion ; sociale forhold ; uddannelse ; økonomi og våbenhandel.
Geography, nature and climate, demographics, history, wars, culture, film, music, politics, defense, peace movements, religion, social issues, education, economy and arms trade.
Géographie, la nature, la démographie, histoire, la culture, la politique, la défense, les mouvements pacifistes, la religion, les questions sociales, l'éducation, économie.
Geografía, naturaleza, demografía, historia, cultura, política, defensa, movimientos por la paz, la religión, las cuestiones sociales, la educación, la economía.
Geographie, Natur, Demographie, Geschichte, Kultur, Politik, Verteidigung, Friedensbewegungen, Religion, Soziales, Bildung, Wirtschaft.
Geografi: Tchad er en tropisk afrikansk republik i Sahelregionen og landet er aktuelt defineret, ifølge ligningsmyndigheden Skatterådet, som et udviklingsland, med grænser til Cameroun, Den Centralafrikanske Republik, Libyen, Niger, Nigeria og Sudan.
Tchads Kultur: Le centre de l'Afrique; autour du Tchad (1894).
http://www.archive.org/details/lecentredelafriq00brunuoft
Massemedier og pressefrihed / Mass media and freedom of the press:
Tekst:
TV
Biblioteksvæsen / Libraries. Bogvæsen / Books:
Tekst:
Aviser / Newspapers / journaux / Prensa / Tageszeitungen
Tidsskrifter, periodica / Journals, periodicals / Revues spécialisées, périodiques / Revistas, publicaciones periódicas / Zeitschriften, Periodika
Kunst / Art
Kunstakademier
Kunsthistorie
Kunstmuseer
Malere
Film / Movies / cinéma / Cine / Filme:
Filmhistorie:
Undervisning i film:
Producentselskaber:
Filmografier:
Tekst: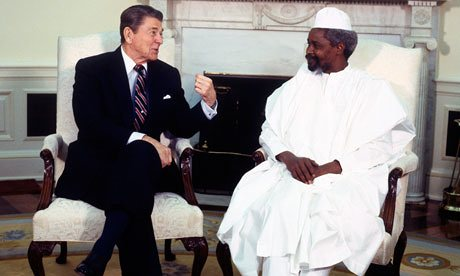 USAs daværende præsident Ronald Reagan sammen med Hissène Habré i Det hvide hus, 1987.
Tcad var medlem af Union Africaine et Malgache / Den afrikanske og madagaskiske Union 1961-1974 ; og er medlem af FN og deltager i det amerikanske udenrigsministrielle, U.S. Africa Command (AFRICOM): Trans Sahara Counter-Terrorism Partnership 2005-., tidligere the Pan Sahel Initiative.
Forsvar / militær: SIPRI: Militærudgifter / Military expenditure of Chad.
Tchad har været regeret af militæret og af generaler siden 1975.
/ Chad has been ruled by the military and the generals since, 1975.
/ Le Tchad a été gouverné par les militaires et les généraux depuis 1975.
Oil, conflict and military expenditure: The Chad example. / : Lena Guesnet (BICC) ; SIPRI.
- http://www.sipri.org/research/armaments/milex/ICES2013/papers/archive/guesnet-oil-conflict-military-expenditure-chad
Værnepligt: WRI: Country report and updates: Chad. Conscientious Objection to Military Service: Issues for the Country Report Task Forces - CHAD Submission to the 94th Session of the Human Rights Committee: October 2008.
Silva, Romesh, Jeff Klingner et Scott Weikart, «Violations de droits de l'homme par l'Etat tchadien sous le régime de Hissène Habré»: Un rapport du groupe d'analyses statistiques de droits de l'homme de Benetech (Benetech's Human Rights Data Analysis Group), pour Human Rights Watch et pour l'Association des Victimes des Crimes et Répressions Politiques au Tchad, 30 février 2010.
Disponible à cette adresse : http://www.hrdag.org/about/chad.shtml
- https://www.hrdag.org/content/chad/Violence-de-lEtat-Tchadien.pdf
- https://www.hrw.org/about/people/reed-brody
From U.S. Ally to Convicted War Criminal: Inside Chad's Hissène Habré's Close Ties to Reagan Admin
- http://www.democracynow.org/2016/5/31/from_us_ally_to_convicted_war
- https://archive.org/search.php?query=Hiss%C3%A8ne%20Habr%C3%A9
Det nationale sikkerhedsråd / National Security Agency (ANS)
Sociale bevægelser, herunder miljøorganisationer:
L'Association des Victimes de Crimes et Répressions Politiques au Tchad.
Leder: Dom over en afrikansk despot [Hissène Habré]. / : Martin Burcharth. I: Information, 1. juni 2016.
Økonomi: Den Internationale Bank for Genopbygning og Udvikling, Verdensbanken /
International Bank for Reconstruction and Development: Country at a Glance, 2011.
- http://go.worldbank.org/YB2ATM3HY0

Landbrug: FAO Country Profiles: Bomuld.
Countries requiring external assistance for food.
Crop Prospects and Food Situation No. 2 June 2016. / :
Food and Agriculture Organization of the United Nations (FAO)
Erhverv og Industri:
Naturresourcer og energi: Olie.
Oil, conflict and military expenditure: The Chad example. / : Lena Guesnet (BICC) ; SIPRI.
- http://www.sipri.org/research/armaments/milex/ICES2013/papers/archive/guesnet-oil-conflict-military-expenditure-chad
---
Send kommentar, email eller søg i Fredsakademiet.dk