The Danish Peace Academy
MAHATMA GANDHI AND NORDIC COUNTRIES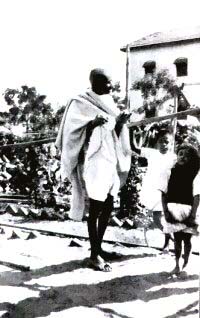 Mohandas Gandhi in his Ashram, 1931.
Photo: Ellen Horup © .
In the files of Holger Terp.
Collected by E. S. Reddy - ereddy@aol.com and Holger Terp - mail@fredsakademiet.dk -
Editors and publishers E. S. Reddy and Holger Terp.
Friends of Gandhi.
Download complete English online HTML-version.
Notes to the people in Nordic countries who corresponded with Mohandas Karamchand [Mahatma] Gandhi
Letters from Gandhi to Scandinavians
Correspondence between Anne Marie Petersen and Mahatma Gandhi
Correspondence between Esther Faering (Menon) and Mahatma Gandhi
Correspondence between Ellen Horup and Mahatma Gandhi
Letters to publishers
Invitations to Gandhi from Scandinavians
Letters from Scandinavians to Gandhi
Appendix
Report on meeting of Mrs. Horup and Ms. Lasson with Gandhi in 1931
Menon, Esther: A Day with Gandhi in London - in Danish
Greeting from Gandhi to WRI international congress held in Copenhagen, July 23.-26.1937
References:
Contemporary Nordic Mohandas Mahatma Gandhi Bibliography
Denmark: Books, Articles. Norway: Books. Sweden: Books
Anne Marie Petersen Bibliography:
Mail peer reviews or comments.
Indholdsfortegnelse
Alle dansksprogede filer er arkiveret, da en stor del af korrespondancen endnu ikke er oversat.
Korte biografiske noter om skandinaver som korresponderede med Gandhi samt enkelte breve
Invitationer til Gandhi
Korrespondance med publicister
Breve fra Gandhi til skandinaver
Breve fra skandinaver til Gandhi
---
The Danish Peace Academy.