The Danish Peace Academy
Songbook
Bring them Home
(Tekst: Pete Seeger, Barbara Dane & GI soldiers)
Melodi: Pete Seeger
Music and tag line by Pete Seeger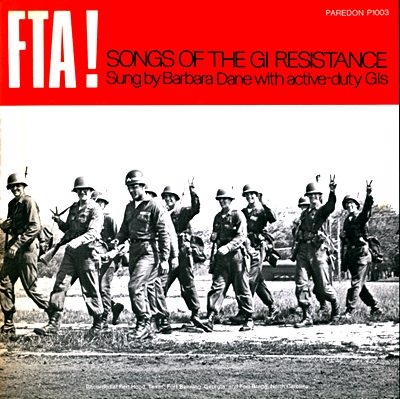 New words by B. Dane and GIs from Ft. Hood 11/9/69
(follow this form throughout)
If you love your Uncle Sam,
Bring 'em home, bring 'em home
Stop the war in Vietnam!
Bring 'em home, bring 'em home.
45 thousand dead and gone
And Uncle Sam is in the wrong!
We wanta end this war right now.
Don't take a genius to figure out how.
Let 'em fly, or let 'em float,
Pack 'em up in a bi-ass boat!
They said it was a freedom fight,
Well now that's just about half right!
There's just one big fallacy,
It's our own GIs that wanta be free.
GIs fight, and GIs die,
Some get rich while Nixon lies.
In Chicago or Vietnam,
They're tryin' to get us to be "the man".
Well buddy, l've got news for you.
l got better things to do.
We're goin' down to Houston town,
Turn this murderin' system 'round.
The gen'rals would like us all to pray,
But it looks like marchin's the only way.
If they say that's not the way,
We'll give 'em one big "FTA"*
(verses not heard on record due to time:)
They call us a bunch of hippie kids,
But wait'll they find out what we did!
They say we blow our minds with dope,
But you know, our youth is our only hope!
l'm gonna let Vietnam alone,
Fight for my own rights here at home!
If you big brass don't know what to do,
We won't kiss your ass and fight for you!
Home of the brave, land of the free,
Let the Vietnam people be.
Wash the blood off of our hands,
Bring our men back to our land.
Well l may be short and l may be tall,
But l sure ain't shaped like a cannonball!
We been marching a long, long time,
But today we're marching with our minds!
*FTA=Army version: "Fun, Travel and Adventure"
GI version: "Fuck the Army!"