The Danish Peace Academy
Greenham Common Women's Peace Camp Songbook
4 Trident, Trident
Trident, Trident what an insane idea
Thousands homeless
all for the sake of fear
We can't afford medication,
or proper education.
But we must pay, a million a day
So that Britain can disappear.
Trident, Trident, the whole thing has gone too far.
If we don't stop them
We're sure of Nuclear War.
Before they start attacking,
We'll have to send them packing,
And pull the chain, on all who gain
From the criminal arms bazaar.
[Author: Rib Bulkeley].
Tune: Daisy, Daisy].
http://www.traditionalmusic.co.uk/song-midis/Daisy_Bell_or_a_Bicycle_Made_for_Two.htm
[Also typewritten and published in the Anti-nuclear songbook.]
[Recorded in the Carry Greenham Home video 1983. Singer unknown.]
[Ainslie, John: Trident : Britain's weapon of mass destruction.
Scottish CND, 1999. - 32 pp.
Hoon, Geoffrey: Trident Missile's Costs. January 18, 2005.
CONTRACTS from the United States Department of Defense.
Plesch, Dan : The Future of Britain's WMD
- London : The Foreign Policy Centre, March 2006.
http://www.times-archive.co.uk/onlinespecials/wmdmar10final.pdf
U.K. Secretly Works on New Nuclear Warhead
http://www.nti.org/d_newswire/issues/2006_3_13.html#F46251DB
Smith, Michael : Revealed: UK develops secret nuclear warhead
The Sunday Times March 12, 2006
http://www.timesonline.co.uk/article/0,,2087-2081800,00.html
UK Completes Successful Test Launch of Trident Missile
A good candidate for the first protest song against nuclear weapons is the American journalist Vernon Partlow's Atomic Blues or Talking Atomic Blues, written in 1945, published and recorded in 1950 by Sam Hinton. During the Newport 1963 Folk Festival Sam Hinton made a new recording of the song. In the autumn of 1953 Atomic Blues was translated into Danish and performed by actress and jazz singer Lise Ringheim (1926-1994), together with composer Børge Roger-Henrichsen (1915-1989) in a Saturday Martine for the Partisans for peace in the Hall of the Student Union in Copenhagen. Atomic Blues was later published in the magazine Dialog in November 1953.
According to Margaret Thatcher Foundation , Margaret Thatcher's files as Prime Minister, 1981 'Finally, there is a revealing political discussion of Trident dated 10 Feb 1981. The new Defence Secretary, John Nott, notes his belief that fully two thirds of the Conservative Party and the Cabinet itself were opposed to the purchase of Trident and that "(e)ven the Chiefs of Staff were not unanimous". Whether they favoured a cheaper system, or none at all, is unclear, though comments elsewhere suggest that the real problem for the politicians was uncertainty as to their ability to manage public opinion with unilateralism rising in popularity. The Foreign Secretary, Lord Carrington, responded bluntly to Nott's reflection: "(He) said that he also was in no doubt about the decision. Failure to acquire Trident would have left the French as the only nuclear power in Europe. This would be intolerable."'
Margaret Thatcher Foundation: Margaret Thatcher's files as Prime Minister, 1981, 2011.
- http://www.margaretthatcher.org/archive/1981_PREM19.asp
Protests against Trident: Trident Ploughshares.
Ulla Roder. ]
4 You can't kill the Spirit
[Spiritual and a round.]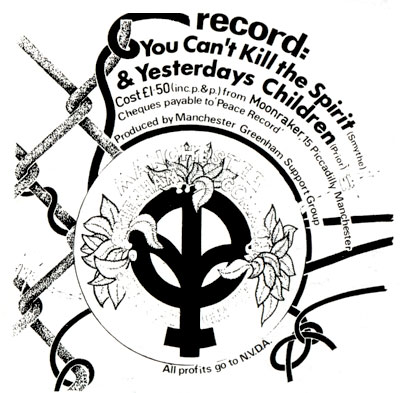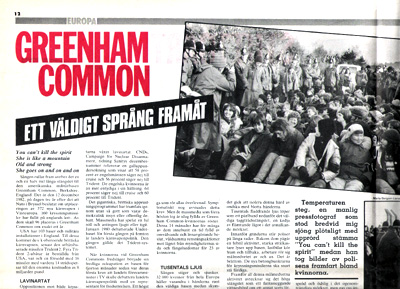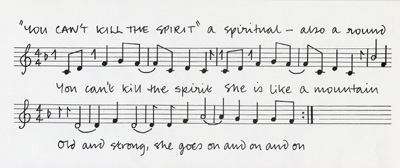 You can't kill the Spirit
She is like a mountain
Old and strong
She goes on an on and on
She is like a mountain... (repeat ad nauseam)
[Author and composer: Naomi Littlebear Morena.
"Old and Strong" - A favorite with womyn's groups. Apparently written by Naomi Littlebear Morena and is adapted from the song/chant "Like a Mountain". A recorded version of it appears on Moving Breath's CD She Changes ©1991.
http://www.cyberus.ca/~phoenix/hedra/Commentary.html#O ].
[Also published in the Chant Down Greenham songbook and in Fredssangbogen.]
[Recorded in the Carry Greenham Home video 1983. Singer unknown.]
Hear You can't kill the Spirit sung by Naomi Littlebear Morena.

Hear You can't kill the Spirit from single record.

Produced by Manchester Greenham Support Group [1983?]. Source: Tape in the file of Ulla Moltved.
In the USA ... Naomi Littlebear Morena.
Spare Rib No. 142, May 1984 pp. 27-28.
Naomi Littlebear Morena, a Chicana feminist musician who wrote the peace song 'You can't kill the spirit, she's like a mountain, Old and strong, She lives on and on', is planning a European concert tour in May/June 1984. She'd like to be put in contact with local women's centres, women's peace groups, women's groups working on racism and social justice, women's bands and theatre groups and the like so she can arrange benefit concerts on her tour.
In an American interview with Janna MacAuslan, Naomi talked about her work:
J: How did you discover that your song 'Like a Mountain' has been adopted by the women at the Greenham Common peace camp in England as a theme song or anthem?
N: Well, a friend of mine at work called me up and said she had heard thousands of women singing 'Like a Mountain' on a radio report about the peace camp. This was the time when 30,000 women came to Greenham to surround the missile base. Gradually, after that I kept getting more and more' people coming up to me with information and I kept finding out more about it.
Betty McFarlane, a Portland peace activist, approached me with the idea - of going to Greenham Common to sing my song with the women there. She started a campaign to collect money to send me there.
J: How long do you plan to be in Europe? Will this be a concert tour besides the Greenham Common visit?
N: The tentative plan is for at least one month. I think I'd like to work with women's choral groups there and other women musicians in Europe so they can participate in this exchange as well. It would be nice to have a strong back-up of local women to present the music. I want to have more intimate connection with the women there than a mere concert situation allows for.
J: Beyond your musical endeavours I know that you are a writer and a poet. Have you been publishing your writings lately?
N: Yeah.l've been working as co-editor of an issue of Calyx that will be made up of writings of Native American and Latina/Chicana women that will be coming out soon. I'm getting more in touch with things I've never written about before - about the racist experience and understanding how I've assimilated these experiences into my personality. I've been writing quite a lot. These writings will be in book form and hopefully will be finished in the fall of 1984. It will be about growing up in a racist society. It's more narrative than any style of writing that I've done before. The only books I've read lately are books by women of color. I've been real inspired by the books black women writers have been comming out with. I quess the inspiration has been growing from there.
[Nicolson, Annabel: Greenham Common: In Performance magazine, 1982.
http://www.luxonline.org.uk/reviews/greenham_common.html ]
[Kathy Jones: Goddess in Glastonbury.
http://www.kathyjones.co.uk/treasure2.html ]
[Bergom-Larsen, Maria: Greenham Common : Ett väldigt språng fremåt. Pax [Stocholm], No. 1, 1983:1 p. 12-13.]
5 Newspaper articles about Greenham Common.
---
Send commentary, email or seek in Fredsakademiet.dk