The Danish Peace Academy
Greenham Common Women's Peace Camp Songbook
36 Holloway Song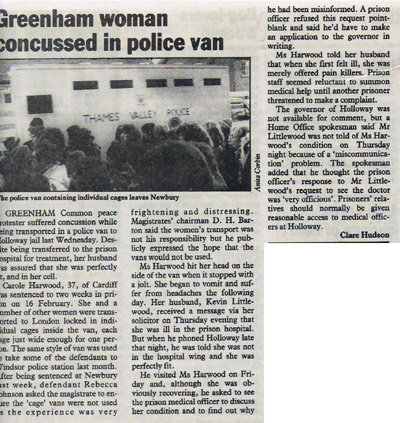 The walls you put around me
dissolve and fade away
They're only stone and metal
And they're all you have
I am not alone here
There's many you can't see
And theres many come before
And many more to follow me
There's nothing you can use now
to treathen and control
Authority is hollow when its all you have
Our voices wont be silenced
By hiding us away
Its you who are the prisoners
Though you tell yourselves you're free
And when you lock the doors behind us
You only fan the flames
By giving us a number
You don't rob us of our names.
And there are no walls to hold us
No laws to kill our spirit
And you can't take away
No you can't take away
You will never take away our freedom.
And while you nourish fear and dispair
While you aim at nuclear war
While you take away our rights
You dare to preach to us of the law.
But there are no wall to hold us
No laws to kill our spirits
And you can't take away
No you can't take away
You will never take away our freedom.
[No information about author and composer.]
[Tune: Midnight special?
Holloway Prison is a women's prison and young offenders' institute in North London. There has been a prison on the site since 1851, and it became a purely women's prison in 1903. During its long history, it has held prominent prisoners such as Oscar Wilde (before Holloway's conversion to a purely women's prison, Wilde was held there on remand), and women such as the suffragette Christabel Pankhurst, early 20th-century Irish and women's activist Constance Markievicz, and many women from Greenham Common Peace Camp. The prison was completely rebuilt on the same site in the 1970s.
http://www.movinghere.org.uk/stories/stories.asp?projectNo=30]
Originally constructed by the City of London and opened in 1852 as a mixed prison, became all female circa 1902. Completely rebuilt between 1971-1985 on the same site.
http://www.hmprisonservice.gov.uk/prisoninformation/locateaprison/prison.asp?id=454,15,2,15,454,0
Holloway Prison History.
http://www.richard.clark32.btinternet.co.uk/holloway.html
Museum of London: Holloway Picture Library.
http://www.museumoflondon.org.uk/frames.shtml?http://www.museumoflondon.org.uk/MOLsite/piclib/pages/bigpicture.asp?id=1316
CRISPIN HUGHES PHOTOGRAPHY
London. Holloway Prison
http://www.crispinhughes.co.uk/main/UK9.htm
http://www.crispinhughes.co.uk/main/UK10.htm
Hudson, Clara: Greenham woman concussed in police van [Carole Harwood].
New Statesman. Vol. 105. No. 2710, 25 February 1983 p. 5.
Sarah Benton adds.
New Statesman. Vol. 105. No. 2716, 8 April 1983 p. 5.
Jones, Lynne: A week in the life of a Greenham prisoner.
New Statesman. Vol. 107. No. 2767, 30 March 1984 pp. 8-10.
LOOKING at Jean Kaye, it is hard to believe the grandmother of seven has been arrested endless times...
Peace campaigner's fight goes on
http://archive.thisisoxfordshire.co.uk/1998/03/20/86503.html
Brown, Paul: Peace protester on a Vespa
The Guardian, Monday May 26, 2003
When cruise missiles were first deployed in the British countryside in 1982, Jean Pike, who has died aged 80, would set off, day or night, from her council flat in Leighton Buzzard, Bedfordshire, on her Vespa motor scooter to track down, challenge and obstruct the convoys. The only respite for the authorities was when she and her companions were arrested; she spent many nights in police stations and, in 1983, was sent to Holloway prison. It was not until her children left home that Jean announced she felt free to "do what I want". This meant joining the first anti-cruise march, in September 1981, from Pembrokshire to London, and setting up the first Greenham Common peace camp, then a mixed affair.
She spent most of the next 10 years in peace camps, harassing cruise convoys or at home recuperating from bouts of arthritis caused by cold, wet hours on her trusty Vespa. In the mid-1980s, she went with a delegation of British women to meet members of the Russian women's peace movement, many of whose sons had been killed in Afghanistan. After the victory against cruise was assured, she tended the gardens at Crombie House, a centre for the disadvantaged in Leighton Buzzard.
Hipperson, Sarah: Joan Hayman
The Guardian, Thursday June 20, 2002
http://www.guardian.co.uk/obituaries/story/0,,740429,00.html
Joan Hayman, who has died aged 77, was almost 60 when she began to spend time at the Greenham Common women's peace camp in Berkshire, which was established in 1983, two years after cruise missiles were first sited at the United States airforce base at RAF Greenham Common. She was to live there, for six months of the year and often during the harshest weather, sleeping in a survival bag or in a primitive shelter. For much of the 12 years of the camp's existence, between 1983 and 1995, she was a key figure, always willing to take non-violent direct action. She was arrested dozens of times and imprisoned on six occasions.
Grandma cleared of nuclear sub attack
From the Telegraph & Argus, first published Friday 19th Jan 2001.
Peace campaigning grandmother Sylvia Boyes, 57, was yesterday dramatically cleared of plotting to damage a Trident submarine while it was waiting to be tested in a dock...
Sylvia who has been imprisoned `seven or eight times' before adds: "We did not deny doing it. Our defence is one of lawful excuse in that we committed a crime in order to prevent a bigger one being carried out - nuclear war."
Durham born Sylvia, has been involved in the peace movement for most of her life - starting off by running stalls and fund raising. She became involved in direct action after going to Greenham Common in 1982. "I brought up four children and as they grew older I became more and more involved. It is my time and I see it as my work." ...
Clements, Jane: Edna Smee
The Guardian, Monday October 3, 2005
http://www.guardian.co.uk/otherlives/story/0,,1583601,00.html
Active in CND, she supported the Greenham Common women. At 68, she was arrested in non-violent direct actions at Greenham and other US bases. She was angry about damage to the environment and helped to set up a local group of SERA, a campaigning Labour movement environmental group. She was a talented needlewoman, cook, gardener and artist, devotee of poetry, literature and art. The last major protest she went on was the against the war in Iraq in 2003, accompanied by her husband, children and grandchildren.
Greenham women face jail over radar protests
Blair's aide ends dithering on Star Wars
By Sandra Barwick, Telegraph ISSUE 2169
3 May 2001
http://cndyorks.gn.apc.org/yspace/articles/radarprotests.htm
TECHNIQUES used at Greenham Common are being used by protesters to highlight Fylingdales and Menwith Hill radar stations in President Bush's "Son of Star Wars" defence system.
Helen John, 63, a founder of the Greenham Common protest, Angie Zelter, 49, another Greenham veteran, and Anne Lee were found guilty yesterday of criminal damage and told they could face prison. The women, now members of the Menwith Hill Women's Peace Campaign, had cut a hole in the wire fence around Menwith Hill, near Harrogate, north Yorks, to gain access to the site...
See also: Sarah's Song.
---
Send commentary, email or seek in Fredsakademiet.dk