The Danish Peace Academy
Kunstnere for Fred / Artists for Peace
Art in Resistance - Resistance in Art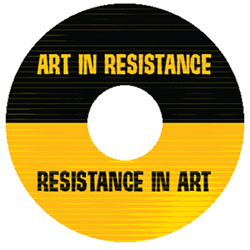 Another world is possible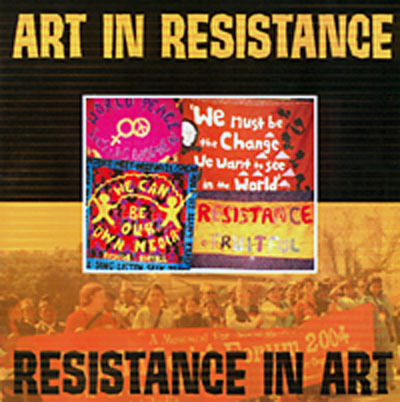 "Another world is possible" is the motto of the World Social Forum as well as ofthe many regional, national and local social forums held all over the Earth, It was in 2001 all this began. At the World Economic Forum in Davos, Switzerland, most of the demonstrators were stopped long before they got near the conference site, and the 300 who did reach the place were met by monitors in the cold of winter. A counter meeting in Porto Alegre in Brazil gathered 15.000 - a lot more than anticipated. A toy manufacturer had made church people and along with them ATTAC-France, numerous NGOs and Brazilian popular movements enthusiastic about the idea. There was agreement as to resistance against Neo-liberalism, but in order to uphold the diversity and the openness, no resolution was made on behalf of the entire forum. The withstanding of the divide and rule tactics of the adversary had been successful.
The WSF summons trade unions, farmers, environment movements and radical anticapitalists to join in common panel debates, seminars, workshops, song, dance, drama and demonstrations. There are no decisions made for the whole of the WSF, but likeminded popular movements can at social farums call for action.
In this way the initiative came about to stage mass demonstrations against the Iraq war everywhere in the world.
The WSF has given rise to an exchange of views across borders and a serious resolve to resist. In the media the huge meetings have often been ignored or ridiculed. Among the movements there is a discussion afoot about the exclusion or marginalization of radical groups and the risk that the WSF may become a toothless fair or festival wlth 100.000 frequenters, dominated by NGOs and academics. But from the formation and spreading around the globe of more and more local, national and regional social farums where varied solutions are tried out, ensues a debate, vital and continuing.
Tord Bjork, Friends of the Earth, Sweden
Read more: www.wsfindia.org, www.choike.org, www.social-movements.org/en/
ART IN RESISTANCE - RESISTANCE IN ART Voices from a workshop at the World Social Forum 2004 Published by "Kunstnere for Fred" (Artists for Peace) Danish PAND International and distributed through the participating artists (see inside the booklet). © All rights belong to the artists Mastering: Niels Martinussen and Noel Cabangon Lay-out: raadal.dk
| | |
| --- | --- |
| | Don't Owe' Won't Pay Noel Cabangon Philippines |
Angola… Burkina Faso… Cameroon… Chad… Congo Brazzaville… Ivory Coast …
Ethiopia… Ghana… Guinea-Bissau… Kenya… Malawi … Mali .. Mauritius..
Mozambique… Namibia… Nigeria… Paraguay … Peru Senegal… South Africa…
Tanzania… Togo… Zambia… Zimbabwe
Bangladesh… Burma… Cambodia… Fiji… Hong Kong… India… Indonesia… Japan…
Korea… Nepal…. Pakistan… Philippines… Sri Lanka… Thailand
Argentina… Bolivia… Brazil.. Chile… Cuba… Dominican Republic… Ecuador..
Guatemala… Haiti… Mexico… Nicaragua… Paraguay.. Peru… Venezuela
CHORUS:
DON'T OWE, WON'T PAY! (2X)
NO PAGAMOS, NO PEDEMOS! (2x)
NOUS NE DEVONS RIEN, NOUS NE PAYONS RIEN! (2x)
DON'T OWE, WON'T PAY! (2X)
WE COME TOGETHER
NATIONS AND PEOPLES
SHARING ONE SONG
OF LOVE AND FREEDOM
Nous devons agir ensemble
Tous les nations et peuples
Avec une seule voie
d'amour et liberte
WE COME TOGETHER
SHARING ONE VOICE
NO BARRIER OF LANGUAGE
OF COLOR AND OF RACE
Il faut s'unir ensemble
Avec une seule voie
La langue, la race ou la couleur
Ils ne posent aucune obstacle
(CHORUS)
WE COME TOGETHER
SHARING ONE DREAM
NO DEBT A BONDAGE!
NO LIFE IN CHAINS!
junto estaremos
compartiendo un sueño
no a las cadenas de sumisión
de la deuda y de la vida
WE COME TOGETHER
TO SHOW OUR POWER
AND IN OUR UNITY
…A BETTER WORLD IS POSSIBLE
(UM OUTRO MUNDO E POSSIVEL)
NOS ENCONTRAMOS
PARA MOSTRAR NUESTRA FUERZA
DESDE NUESTRA UNIDAD
OTRO MUNDO ES POSIBLE
Composed and performed by Noel Cabangon. Courtesy by Jubillee South
Song inspired by and first performed at the International Peoples' Tribunal on Debt held at the World Social Forum in Porto Alegre, Brazil in 2002
Jubilee South is a network working to develop an international South movement on the debt. It has members from over 40 countries from the regions of Latin America and the Caribbean, Africa, and Asia and the Pacific, composed of over 80 jubilee and debt campaigns, social movements, people's organizations, communities, NGOs and political formations.
Jubilee South International Coordinating Committee (ICC)
Mailing address: 54-F Matapat Street, Central District, Quezon City, Philippines
Telefax: (63-2) 925-3036, E-mail: secretariat@jubileesouth.org Website: www.jubileesouth.org
---
| | |
| --- | --- |
| | The Call, Sara Mathai Stinus, India |
Sara Mathai Stinus (1929-2006), writer, lecturer, born, raised and educated in India.
Has published a number of articles and poems in Danish newspapers and contributed to several anthologies of poetry. Has also written and published books of both poems and prose, latest a collection of Indian tales.
The Call
Come all, tarry not
Hasten, it's late
And sharp the chill.
Come on and dally not
Bring your vitality
Bring your warmth
Let's breathe in unison
See, the hot vapours rise.
Join hands, breathe deep
Watch how the ice melts away
Crystals of fire and heat
Drip drop by drop, a brook now.
Raise your voices, for sure
It's a babbling stream
Watering starved fields
Swelling hope, filling bowls.
Listen to the hum of wheels
Spinning the new rhythm,
There's rejoicing in the air
As spades loosen earth
No longer forfeited.
Fetters of fear flinch
And take to flight,
Hostages no longer
We create the future
Our song is in the making.
Come sister, come brother
Our spirit is all it takes
To effect simple wonders.
Come all, tarry not
Hear the call of the earth
Let's inflate it with life.
Sara Mathai Stinus
---
| | |
| --- | --- |
| | Facts About GATS John Gavin Gillard Austria |
John Gavin Gillard, English, lives in Austria, teacher in adult education; guitarist, composer, singer/songwriter.
Address: Im Wingat 2, 6990 Bregenz, Austria
Phone: 0049-(0)5574-70097
john@gillard.at
Has taught guitar for 20 years in music schools in Austria and was the founder of the "Free Music Project". Is now a teacher in the "Volkshochschule" and plays in various music formations (ie, Turkish music and poetry). Works with ATTAC on a multimedia project "Facts About GATS"combining facts, music and pictures with the hard realities of neo-liberalisum and globalisation.
Facts About GATS
The facts about GATS, the facts about GATS
Come all of you people and listen to me
Let me tell you of the greatest calamity
148 nations signed an agreement
To liberalize, privatize, capitalize, monopolize
Free Trade for free
And the European Commission says quite openly that GATS
Is an instrument for the benefit of big business.
So this is, so this is, the facts about GATS
So this is, so this is, the facts about GATS
The General Agreement on Trade in Services
Will change everything into private capital
From the cradle to the grave, every move you make
Will be subjected to the totality of big business
There`ll be no room for love and affection
No room for understanding
The GATS process will be a total eclipse
So this is, so this is, the facts about GATS
So this is, so this is, the facts about GATS
Come all of you women, and listen to me
Let me tell you about modern slavery
In sweatshops, macquilas and Free Production Zones
Globalisation will strip you to the bone
And you don`t have a leg to stand on
They won`t let you organize
The rape of the woman is globalized
So this is, so this is, the facts about GATS 2x
So this is, so this is, the facts about GATS
Come all of you people and listen to me
Why we can`t let this tragedy go on and on
Hunger, thirst and wars and death
You know the children are the first to go
And GATS won`t make things easier, GATS will have to go
And GATS is a child of the WTO.
So this is, so this is, the facts about GATS 2x
So this is, so this is, the facts about GATS
Well these are the facts that must be told
Don`t be blind or deaf or cold
The price of silence is being paid
In the hard currency of human suffering.
From Vancouver down to Cochabamba, Genoa, Bangalore
People are coming together, fighting together
But you must know what it`s for.
So this is, so this is, the facts about GATS
So this is, so this is, the facts about GATS
So this is, so this is, the facts about GATS
So this is, so this is, the facts about GATS
Facts about GATS
John Gavin Gillard
"Facts About GATS". Text & music: John Gillard
John Gillard (guitar & vocals) Philipp Gerger (bass)
Albert Wirthensohn (percussion) Verena Gillard (Keyboards)
Robin Gillard (drums) Christian Meusburger & Doris Zucalli (vocals)
Recorded betweenDecember 2003 & February 2004 / Vienna
GATS has spread its tentacles through out the world and is the glue between the World Trade Organisation and the multinational companies. This is an attempt to describe the monster in song. The words are inspired by texts in ATTAC pamphlets and by the books of Maria Mies (Germany) and Claudia von Werlhof (Austria).
---
| | |
| --- | --- |
| | With a Little Bit af Gladness |
(Instrumental)
Music: John Gillard
John Gillard (guitar),
Philipp Gerger(bass)
Raya O.Coal (vocals & vocal arrangement)
Robin Gillard (percussion)
Recorded between December 2003 February 2004 in Vienna
I always like to play some instrumental compositions in between the songs of my performances. With this solo I asked Raya if she could sing some harmonies for the CD and this is what she came up with.
It`s her own language. The titel is an understatement: Naturally we need lots of gladness and joy, each one of us being a small part of this great diversity of human acivities creating another world possible.
---
Don't let the system win, you never, you never
You never give in
Don't let the system win
`Cause you never, never, never
You never give in
All what you hear, all what you read
It's all designed on fear and greed
Everything's a cover up, who knows what's true
No place is safe, not even on the loo.
Don't let the system win...
Do you get bad dreams
When you think about TRIPS
Stolen harvest, sterile seeds
Intellectual property rights
Seed terminator, deception, disguise
Monsanto`s patent EP-0445929
5164316, 5723785
Don't let the system win...
Well systems come and systems go
But I tell you folks this is one big show
Don't let the system win...
With the ISCID, GATT, ICC
ERT and the UNICE
The BIAC, loaded dice
W-B-CSD, NAFTA, IMF
With GATS and TRIPS
You should`nt be slow
`Cause they`ll double you With a T and a O
Don't let the system win...
John Gavin Gillard
"Don`t Let The System Win". Text & music: John Gillard
John Gillard (guitar & vocals) Philipp Gerger (bass)
Albert Wirthensohn (percussion) Martin Payr (Keyboards)
Robin Gillard (drums & vocals) Christian Meusburger & Doris Zucalli (vocals)
Recorded betweenDecember 2003 & February 2004 / Vienna
The second verse is about Monsanto, the gene giant that produces Patent No. 5723785, a genetically engineered seed. It ensures that the seed does not germinate on harvest, thus forcing farmers to buy seed at each planting season. The other numbers are the cotton patent 5164316 and the Indian wheat patent EP 0445929. The last verse lists abbreviations of lobbies for multinational companies and abbreviations of the World Trade Organisation and its allies. DON`T LET THE SYSTEM WIN, YOU NEVER , YOU NEVER GIVE IN.
From "John Gillard and Band - Facts about GATS" GIL0404 © 2004 Gillard Music a subdivison of GNC GmbH www.gnc.at, Gillard Music, Gumpendorferstr.76/15, 1060 Wien, Austria, www.gillard.at, info@gillard.at
---
| | |
| --- | --- |
| | The Invisible Cage Lev Grossman-Spivack USA |
Lev Grossman-Spivack, American spokenword-poet Address: 71 Moraine st., Jamaica Plain, MA 02130 USA Phone: +1 617 522 88 23 levnice@hotmail.com , lev@bu.edu
Lev started milking elephants as a youngster until he found his flow, the word, the rhyme, the rhythm, the beat, the essence, the ink on sliced tree. His love for music began with his father's jazz collection that flooded the house with sound. He plays jazz piano, drums, tap dances, beat-boxes, paints, takes photographs and long walks at night, when the streets are his, and praises the mystery of the moon. He lives in Boston (JP).
The Invisible Cage
The prison industrial is more complex than minds can see reality.
Housing for one million of the African-American population
has been transported and transformed
to African plains of
wild life and free range,
but oppression is deceptive and invisible in unmarked landscapes.
Iron bars clamp down on livelihood, confine tradition, restrict decision.
Past time erased for future time of clean slate.
Modern-day meaning-absent creatures
run around oversized zoos that starve the stomachs of
ancient-as-biblical-protectors-of-the-pilgrimage:
the endangered people's list is growing…growing…
and soon they'll be gone.
Swallowed up by water encatchment schemes
and electrical telephone beams,
distant memories talked about in overcrowded kitchens,
saved in data cartridges broadcast on television screens,
but they changed the soundtrack, they muted the screams,
or was it all just a modern-day image-enhanced scary dream?
Terrify your mind-state run capital intensive investment
check this message
pass me a weapon
cause I'll be damned before I let the neo-colonizers of
pastures planting landmines disguised as wheat fields
retreat or be killed
this land is NOT FOR SALE!
Hey, settle down, relax, don't get to excited
why would you think to fight it?
Its just a light switch, a shorter walk to take a shit,
a hot shower, and soon even a digitally-enhanced satellite dish…
276 channels to surf…you get the picture?
Your stomach will start to feel richer. There's a new preacher in town
and he's preaching from a new scripture:
"Fresh breath that really gets you going," cause once it starts flowin',
this high tide to modernize will continue to rise.
There's really nowhere to hide, whether you graze cattle,
sling rocks to the fellas on the block,
or tie that noose around you neck, talk about
bottom lines, budget cuts, and play with number-sets.
This system has a stranglehold squeezin' life out of the living
knowledge extracted from the wisdom
bureaucrats voting for politicians
playing the same old
broken record rendition broken record rendition broken record rendition.
Neglecting indigenous tradition; the only voice that clearly sees
the limits to this system.
Calling through collective conscious melodies, can you hear me?
I said holler if you hear me!
Stop the bomb threats, its suicide; I see the fear in your eye,
and I know why straight through the lie.
Yes, feedbacks are positive, they feed off more and more of this
chaotic turbulence and tidal waves,
hurricanes, monsoonlike plagues.
Climates change the latitude at which our food can reproduce.
Pesticides poison pulsating rivers and streams
eroding soil and dreams
of clean combinations of oxygen and two parts hydrogen;
chaos unhinging nitrogen-fixing processes
destroying the earth's naturally enriching tendencies
exploited, contorted, manipulated and modified, homogenized
by patented prescriptions read the recipe
fuck tradition!
Follow the directions available in the next edition of…
FARMING FOR DUMMIES coming soon to a bookshelf,
computer chip, download, internet, management, monocrop,
stock-pile, price-fix, so we can let your food rot.
This world is won, its all you-nighted
interconnected, why try to fight it?
The cookie-cutter is your Big Brother so take a bite and grab another.
Strip malls and TV dinners are the vision for the future.
Wherever you are, we'll be there soon, so soon you'll see
there really is no difference between you and me.
So naturally, the world should look the same speak the same eat the same
move the same build the same until we go
iNsAnE aNd BrEaK tHe ChAiNs!
Shackled mental states must change.
Revive the wild, subdue the tame,
domesticated, medicated, prozac simulated happiness
is wrapping us in plastic packaged mattresses.
Lasting passion, sustained over time in collective action,
is the only way to pressure cook the industry until
they learn to see reality in all its complex activity.
Each one teach one, the task awaits us all.
Split open minds like Einstein split the atom.
Shatter images like the "other," romanticized borders between our brothers.
Raise you voice, AMPLIFIED, with a different sound.
Strategize, instigate, find new ways to relate,
Initiate a new debate, force a mind to contemplate,
motivate, educate, mass-media blitz, intoxicate.
Flippin' the script, visualize, audio-file with the BANGSTYLE!
Rip apart and deconstruct the seeds of brute corruption.
This myth of wild Africa must be slaughtered and forgotten
like nomads shot-on-sight and left in ditches dead and rotten.
Cain slew Abel crops kill herds
the balance of livelihood has been disturbed.
At the brink of extinction
the naked eye sees truth
so clearly
tears tell only half the story.
the song of the wind whipping through trees in savannah plains
whispers memories of ancient wisdom
which may soon be
decomposed and repossessed
by the natural order.
Chaos has taken over.
---
| | |
| --- | --- |
| | Children of Tomorrow Noel Cabangon Philppines |
Noel Cabangon, Philippino singer/songwriter, musical director and actor
Address: #9 Siagu St., Urduja Village Novaliches, Quezon City, Philippines 1123.
Phone: +63-917 890 9607
wantibalaymi@yahoo.com
A folksinger since the 80s. As a member of the progressive music group Buklod he has produced the albums 'Bukid at Buhay' (about the lives and struggles of the Filipino peasants), 'Tatsulok' (about human rights) and 'Sa Kandungan ng Kalikasan' (environmental songs) and a number of albums on Jesuit Music Ministry. He has performed the role of Jose Rizal in PETA's 1896 and the role af Jesus in the rock opera Jesus Christ Superstar. He is active in a number of movements, among others Jubillee South, Freedom from Debt Coalition, Greenpeace International, and Akbayan Party List.
Children of Tomorrow
"Tomorrow the sun will rise
and wash away the tears in our eyes
anew day will bring us oy
and opur hearts will cry no more
Tomorrow the rivers will flow
the seeds that we've sown will grow
a birds will set down to nest
a new life is born and blest …"
Noel 101
We are the children of tomorrow
your sons and daughters af the future
we are the voice of our generation
we are the hope of our land
We are the children of the world
who will inherit the whole of the earth
we are the fruits of our forebears
we are the children of the maker
We alle need a better world
we all need a safer world
we don't need a battered world
we don't need a crhuel world
We are the children of the streets
we fight for survival and justice
we are the rebels of our nation
we have rhymes and we have reasons
We'll lay the canvass of the world
we'll color the beauty of the earth
we'll paint our poems of hopes and dreams
we'll be the masters of our fate
And, we can build better world
we can make a safer world
we can heal our battered world
we can make a human world
Tomorrow the sun will rise
and wash away the tears in our eyes
tomorrow the rivers will flow
and the seeds that we've sown will grow
(Chorus)
Noel Cabangon
---
I'll take the moonbeams in my hands
and wrap you in their glow
to keep the shadows away
bad dreams at bay
And I'll sing you a lullaby
a song that speaks of deep slumber
and dreamy smiles and happy thoughts
to warm you all through the night
a tune to keep to lull you to sleep
so dream on … dream on …
so dream on … dream on …
so dream on … dream on …
so dream on … dream on my dear
sleep sweet
Noel Cabangon
"Children of tomorrow" and "Lullaby" From "MEDJAS" Jesuit Music Ministry 2003
Text and music: Noel Cabangon, Noel Cabangon (vocal and acoustic gutar) Tots Tolentino (Soxophone), Mel Villena (Blues harp), Noli Aurillo (Electric guitar), Mike Villegas (Electric and acoustic guitar).
---
Erik Stinus, Danish writer (1934-2009).
Has written and published books of prose, a novel, collections of stories, travelogues and a great many books of poetry. The poem "History Now Again" is from his latest publication (2003) but was originally written for a peace demonstration i Copenhagen.
History now again
Drive carefully, we say,
Get home safe, take care of yourselves.
Spend it, yes, but also tend
To that one life,
Your own and theirs.
Go in peace,
Go with God, was what once they said
And elsewhere still they say
When ways are parting
And on into the night we go.
Wretched peace and wretched God.
Peace accumulated weapons,
God was split.
Arm yourselves,
Follow me, he who doesn't toe the line
Has opted for the other God, my foe.
Drive carefully. But how
With all this power, the speeds
At our disposal?
How
With so much weight, capacity for violence?
Rome had chariots, armoured ships
And slaves to row them,
Men who by the thousands
When commanded had themselves transformed
Into all-penetrating spearheads,
All-shattering logs.
Rome had spies and procurators
Who exploited the slightest machinations,
The swaggering feud,
The cockfight of chiefs at the back of beyond,
Between languages and religions.
Rome had hangmen.
And Rome had peasants
Who loyally, with working hours
From sunrise to sunset,
Ricked massively in the stores of the state,
So that not just blood-stained but open-handed
The supremacy could be extended
To the borders of the Earth.
Oh yes, and Rome
Built high, built broad with genius,
Promoted trade and transport,
Organized well the logistics
Until it all began to crumble.
Rome takes up tremendous room in our museums
As we perhaps shall do
In those of an astonished future.
Dear future, who and wherever
You may be, drive carefully,
Get home safe.
Like a boring enumeration
You will remember the mighty commanders,
Whereas the zealous kinglets
Will be clean forgotten.
But for times to come the ruins
Will be haunted, for every step you take
The hush
Following the bombs and the collapses
Will cry to heaven.
Each parting of the ways,
Each starless night,
Each stretch of earth
Where on the mounds of charred bones
No grain can sprout,
Will remind you of the murderers
And the unjustly,
Never-satiated dead.
Rejoice
When you meet a living child.
Take care of it, take care of yourself.
With or without gods and flags:
Go in peace.
Erik Stinus
---
Per Warming Danish writer, composer, singer/songwriter.
Address: Halfdansgade 57, 3tv, DK-2300 Copenhagen S, Denmark,
Phone: +45 32 96 10 17 / 28 78 21 01 perwarming@hotmail.com
Has worked in the Nordic folk highschools, composed music, written and translated songs for the songbooks and platforms of the popular movements. Has written books about the world percieved through songs and recorded songs af among others Wiehe, Vysoyskij, Stinus. The two ballads included here from Erik Stinus' "Songs of the Earth" 2001, are what could be termed as "singing behind the barricades", indicating how we are part of the world history of resistance.
The Salt March
The warm brine round the shores of India
is blue like longing, dreamy blue,
but only he who rules the waves
from faraway can claim the salt you find there.
He taxes every matter
the people laboriously produced
including natures gift af salt
to gilded lords and masses clad in tatters.
There lives a man, awake though dreaming
of other times, a human lot
that will not crouch nor yield to power
but forcefull, tide-like, unarmed will come teeming
from hovels, deserts, landless,
from quarry, spinning wheel and plough,
from servitude arise, take heart:
A hope thus born by want like stars by darkness.
This man, in Sabarmati, feeble,
recovering from prison days,
addresses then the mighty Raj:
"That tax on salt, Lord Irwin, harms our people,
it only can embitter
the hungry poor, their sweat and blood.
I tell you, sir, let not despair,
blind rage react to unjust laws and fetters!"
Lord Irwin scorns Mahatma Gandhi
the small-built, strong-willed man whose faith
and words of peace do not deserve
much notice. Crowds of marchers bound for Dandi
in homespun clothes, now testing
mile after mile the force of souls,
will four weeks on the road exhaust.
We scorn them too while they are praying, resting.
The sea, the sky, the groynes are dawning.
In warm air shimmer, dreamy haze
stands Gandhi raising in his hand
some drops of sea towards the sun this morning.
Those drops evaporated
his palm still holds fine grains of salt,
your life´s bright crystal, despite laws
you Salt on Earth in struggle dedicated.
A band of outlaws here appointed
from sunlit water gains the salt.
Another law is theirs to keep,
the longing of the poor. To life annointed
by truncheons they'll be treated,
in murky prisons waste away,
they know it. No one without fear
but strengthened all, all new and undefeated.
Erik Stinus
"The Salt Match" Text: Erik Stinus/ music: Per Warming. Per Warming (vocal), Christian Dyrst (guitar) Niels Martinussen (accordeon).
On the 12th of March 1930 Mahatma Gandhi with his followers began the 300 km long march from Sabarmati Ashram to the seaside town af Dandi. To protest against the salt tax which, imposed by the British colonial government, badly affected the poor population af India, Gandhi wanted to strike at the monopoly af the British Raj on Salt-making. Early in the morning of the 6th of April the symbolic breach af the law took place.
---
| | |
| --- | --- |
| | The Mothers from Plaza de Mayo |
From the long night she emerges,
halting on the windblown seashore,
staring darkly, dazed
for her child, her man across the surges.
Doomed the dream. Rejoicing, pleasure
ended.
And the ground she treads on razed.
Never-lands of justice, mildness,
people freed, a bright tomorrow
seen in dream and song.
Carried off and dragged through black hell, helpless.
Weapons heed no prayer, no sorrow:
Spare them,
let them dream and live here long.
Can she walk then, tired of weeping,
rooted to her grief, this mother,
bride of graveless dust,
summon and assault the power sweeping
hope to ruin without a bother?
I she
vanquished, no one, nowhere, lost?
In that nowhere she is shining
like a star a starry night now.
Far off sisters call,
other mothers, stars bereaved and pining,
sparks of sun prepared for fight now:
Join us,
shed your light here each and all.
Erik Stinus
"The Mothers From Plaza de Mayo". Text: Erik Stinus/ Music: Per Warming. Per Warming (vocal), Christian Dyrst (guitar) Niels Martinussen (accordeon).
From the mid-1970s the government death squads abducted and murdered opponents af the regime in Argentina, especially young workers, trade union members, students, teachers and civil servants. 30.000 Argentinians "disappeared". Then, by the hundreds and gradually by the thousands, women went out into the streets of Buenos Aires and demanded to have their children back. Plaza de Mayo became their weekly rallying ground. After the fall of the military dictatorship the demonstrations continued and grew, now demanding a full and unhindered inquiry into the "disappearances" and that the perpetrators of these crimes be duly punished. The Mothers af Plaza de Mayo became a radical movement, civil obedience its weapon.
---
A song rings out clear through the din of the battle.
A pean to life is this singing
about the daughter of Jephthah who met
the war-returned victor, or rather
she danced and she played,
in flowers arrayed:
O welcome to safety, dear father.
My song is for happiness, father. You're pale,
but why? And your voice – isn't it trembling?
My daughter, warfare is heady, and I,
deep into it, wedded the first one,
whomever would come
and meet me at home,
to death for my luck. I'm the cursed one.
And there then stood Jephthah, the hero, a man
so hardened, so ravaged by fighting,
the palm of victory earned and his right
to power and glory and kingdom,
yet everything lost.
That was the cost –
his daughter. Now look at them. Sing them.
My sun, it is setting now, and so is yours,
and no road is leading back. Father!
Just grant me time, just a little, to sing
of days here on Earth in their beauty:
So short was their route
like blood-red fruit.
Then silent I'll bow to your duty.
A song rings out clear through the din of the battle.
A pean to life is this singing
about the daughter of Jephthah who met
her fate and still loved in her sorrow.
She danced and she played,
in flowers arrayed.
Let's sing with her, sing for tomorrow.
Per Warming, translated by Erik Stinus
"A Song in the Middle of War" Text and music: Per Warming, in english by Erik Stinus. Per Warming (vocal), Perry Stenbäck (guitars, dobro and arrangement)
Through all the darkest tales of the Bible the countenance of Jephthah's nameless daughter shines brightly. Sentencend to death she praises her earthly life, although it forsakes her. The North Norwegian 18th century bishop Petter Dass shifts in his biblical ballad about this tale the angle af approach from war and duty to love and forgiveness. This song follows his track.
---
Theresa Wolfwood, canadian visual artist and poet
The Barnard-Boecker Centre Foundation
1022 McGregor Ave, Victoria, BC, V8S 3T9 Canada
Phone +250 595-7519
bbcf@islandnet.com www.islandnet.com/~bbcf/
We are the Canaries
We are the canaries
in the mine shaft
of daily fear
of a suffocating end
that we, the world,
even unto the smallest fly,
will die snuffed by poison
emanating from crazed leaders
from profit mad media moguls
from the toxic fumes of lies
that pour
from laboratories of prevarication
silken words
false images
invisible atoms
measured into
vessels everywhere
billboards, expert sources,
surveys, sale flyers
policy papers from consultants
restructured
companies, governments
whole countries,
the
miasma of conspiracy
so powerful
even the very air we breath
is threatened.
we are the canaries
smelling the methane of death and greed
we go ahead
resolute in our rallies, our meetings, our walks
our words, our deeds become a chorus
bearing witness against prophecy
the deceit of greedy promise
we sing even in dark places
prisons without light
we sing into open skies
and empty streets
we will sing and sing
until our frail lungs exhale
our truth
that will enclose
the busy,
the apathetic,
the otherwise occupied with
golf courses or cruises
or the magic of malls
and those who have no strength
and lack bread
and those who hear only bullets and bombs
and lack shelter
we will sing until they all hear us
sing until they lift up and join us
sing until we sing the songs together.
we will be as a host of golden birds
rising from invisible and deep places
we will banish the fear
we will transform the power of desecration
our song will restore the earth
and the sun will rise anew
to celebrate us on a pure and glistening morning.
Theresa Wolfwood
---
Mikael Wiehe: A Song for Courage Community singing
(United Stage Publishing)
This is a song for courage,
a little simple song
to all who trust the day will break
and end the night so long.
This is a song for courage,
a tune to help us dare,
though some may think it is absurd
I sing it: we are here.
This is a song for courage,
for smiles and joy and hope,
to all who trust the strength of love
that can with hatred cope;
to all who unite and stand up
to never drop their case;
to all who know how hard it is
and yet will say their "yes".
This is a song for courage
to those who dare to see,
to those who won't be silenced,
but talk straight of things to be;
to those who are building bridges;
to those who open doors,
believing that what should be done
can mankind do, of course.
This is a song for ev'ryone
refusing to give up,
for those who keep on fighting hard
though bitter was their cup,
for those who still dare to long for
what they have never seen,
for those who do not bend or bow
but stand there, proud and keen.
This is a song for courage,
it is from me to you,
a little simple song to sing,
my hope is in it too.
So guard it well, learn it, hum it
- and if you do, it's bound
to grow and spread, this simple tune
the whole wide World around.
Mikael Wiehe, translated by Erik Stinus
Mikael Wiehe has recorded the song (in Swedish "En sång till modet" EMI 7243 52564432)
Community singing: Lulu Sylvest, Lene Abro, Abelone Rasmussen, Ken Bruun, Erik Stinus, Per Warming
---
Jose Maria Ramos
Address: ……………………………………..
Phone:…………………………….
jose@hotmail.com
He is originally from California of Mexican and Native American ancestry, now living in Melbourne Australia with his wife, DeChantal. His areas of activism have included ecological art, hunger alleviation, and recently 'alter-globalisation'. He is co-organiser of the next Melbourne Social Forum. He holds a BA in Comparative Literature and MS in Strategic Foresight. Professional areas include linking action research and futures studies through 'Anticipatory Action Learning', community development in the context of globalisation, and facilitating process which use foresight to create sustainability oriented innovations and social ventures.
The World Social Forum and the Gaian Stage
In just four years, the World Social Forum has had remarkable success in coordinating local-global activism, becoming one of the key platforms for the proposal of renewed visions, innovations and alternatives for a more humane and sustainable world. In Mumbai it attracted over 130,000 participants from all over the world, people who were united briefly under the banner, "another world is possible". Despite this, the WSF has been given only the most token and patronising references in the global media. CNN, for example, simply stated (in perhaps 15 seconds of news coverage) that 'thousands of anti-globalisation protestors meet in Mumbai' – end of story. The silence in the ('war on terror') media has been – with few exceptions – deafening.
One of the key strategic points in the 'anti-globalisation' movement has been to win a struggle which is related to how globalisation issues are framed on the 'world stage'. This can be seen as an attempt to transcend the banality of global media empires and their deliberate distortion of what counts as world events. 'Anti-globalisation protesters' has a nasty ring to it, as do images of anarchists throwing rocks at armed police and other stereotypes typical of Hollywood's media culture of packaged icons and archetypes. From the vantage point of your average suburbanite sitting at home with his or her children, one would want to stay as far away as possible from these dangerous and savage activists - people who block streets, chant loudly and destroy global franchises. Alas… the struggle over the imaging and narration of the globalisation movement has seen a small first victory in France, where the initially harsh portrayal of such issues now has a softer ring to it: 'Alter-globalisation movement'. In contrast to rowdy 'anti-globalisation protesters', these 'alter-globalists' are depicted as thoughtful, forward looking, caring and in some cases visionary individuals. Contrast images of people that hate as opposed to people that care; people with nothing but contempt for the system as opposed to people with viable alternatives to corporate globalisation leading toward a more sustainable and humane world. Such is the 'sub-urban living room problematique'.
It is in this context that the World Social Forum, in Porto Alegre, Mumbai and for as long as it continues and wherever the road show travels, can be seen – not simply as an act of resistance inclusive of art, but as an act of creation. This is a WSF in which the world stage is the canvass by which the 'art' is a symbolic intervention on the orthodox image of the future, an opportunity to create the future of humanity through deep participation. This first definition, art in the WSF, is likely to see the WSF in large part as a cultural event, a place where thousands of artists converge yearly to express what cannot be expressed in words. Intellectuals might say "another world is possible", but it is the artists who will build the sensory-aesthetic bridge to those alternative worlds. At the recent WSF in Mumbai, there were many examples of such artistic bridging.
Self-aware artists are symbolic demiurge – they re-order the assumed symbolic world of meaning we see before us – in this particular case where corporate globalisation has become so natural it is like the air we breathe. Yet this definition also separates art and politics as activities of human invention, separating the forum and its minor spectacles. An alternative definition, the WSF itself as a fundamental act of symbolic creativity, does not make this distinction. In this alternative definition the WSF is, within itself, the fundamental symbolic and creative unit. Here we come face to face with the WSF and its identity on the world stage. Within this definition, the WSF is the action (artistic and political alike), acting upon global narratives and the narratives of globalisation that live within a global audience. As orthodox narratives of globalism breakdown, dissonance, confusion and cacophony follow on through its reconceptualisation. This breakdown of meaning has the potential to lead onwards to narratives of hope, empowerment and action. From this vantage point the movement will succeed insofar as the WSF plays to the global stage, a theatrical production on a grand scale, with 130,000 sum actors per year. It will fail insofar as the WSF is an 'event', loaded with disparate actors all playing to the beat of their own drums, a centrifugal identity politics where any hope of a coherent and coordinated theatrical production is undermined through competing interests.
This same contrast between art in the WSF and the the WSF as art is exemplified through definitions of what is known as 'socio-drama'. In the first definition, the socio-drama developed by J.L. Moreno, Augusto Boal and others marries self-empowering theatre and progressive social action. Theatre became a form of social intervention that challenged the reified categories of 'self' and 'other', 'righteous' and 'morally decadent', through street / café theatre, playing games with the normalised field of human relations in order to achieve transformation. Boal's tactics, for example, have included everything from staging impromptu public dramas during the fascist years in Brazil which challenged the oppression of public silence, to mock political campaigns that brought attention to the marginalised in political debates – one mock campaign which inadvertently led to Boal being elected as a legislator. Theatre groups and cultural animators now wander the globe engaging communities in the 're-enactment' of their lives and stories, creating new more empowering narratives in which to live. At the Mumbai WSF we could see a myriad of socio-dramatic acts of resistance and re-creation, such as Dalit plays and marches that turned songs formally used to enforce caste oppression into songs of liberation and emancipation.
The another definition of socio-drama used by US activist Bill Moyer, creator of the Movement Action Plan (MAP), used the term to refer to forms of social / symbolic intervention which are played out across a whole society, through well choreographed and intelligently staged social activism and social movements. Such socio-drama aims to challenge communal, social and global narratives in an attempt to achieve meaning in more universally symbolic contexts. Moyer shows how the civil rights movement in the US carefully created such socio-dramatic events as a communicative strategy – a way of emotively communicating with and involving a mass audience. The maturing civil rights movement in the US used the media to challenge middle-America's good Samaritan self image, and awaken it to the crisis of racial segregation and the plight or minorities they were complicit in. The march to Birmingham, for example, saw 65 days of non-violent protest and 5,000 arrests stir the conscience of a nation. Birmingham was targeted for non-violent direct action specifically because it was a self-proclaimed stronghold of racial segregation. In the Indian Independence movement, which directly influenced the US civil rights movement, Gandhi's march to the sea to reclaim the right to harvest salt was a socio-dramatic act. The march helped demonstrate to the world how Indians were subject to British brutality. It was not simply a march for salt, but rather a demonstration of the symbolic relevance of salt. British control of salt distribution became the metaphor, a metaphor which lived within the larger story of the colonial experience. Gandhi's march depended on his capacity to communicate to a mass audience of nascent Indian nationalists and revolutionaries, and awaken the dream of casting off colonial shackles before an audience of Indian and global onlookers.
So while I can metaphorically proclaim:
Participants at the WSF form part of the living metabolism of a nascent Gaian compassion. The WSF is a heart that pumps through the blood cells of the world from every community, filling them with new hope to nourish every community the dream and vision that 'another world is possible'.
Most will get CNN's version: 'thousands of anti-globalisation protestors meet in Mumbai' – end of story. Thus, we are dealing with the imaging and representation of variants of globalism on the stage of the emerging global polity, the noetic sphere as prophesised by Teilhard de Chardin and William Irwin Thompson. De Chardin wrote on the emergence of a global spiritual community via planetization, Thompson of a global media slowly moving towards a Gaia politique, a 'planetary noetic ecosystem'. We arrive at the problem of the manipulation of the mass media, and conversely the mass manipulation of the individual. The socio-drama here is an intervention in the reified set of symbolic relations that maintains the legitimacy of an un-democratic, unsustainable and inhumane corporate globalisation – intervention on the world stage of interlocking stories and narratives, and the media systems that maintain them toward the emancipation of the individual.
The grand drama of globalisation doesn't unfold in the symbolic language of individuals, or individualistic movements, such as that which is seen on the stage or on film. It unfolds over deeper Time through a macro-historical set of narrative and stories that will encompass generations and transcend 'isms': developmentalism, modernism, castism, colonialism, feminism, socialism, capitalism, environmentalism, globalism, etc. The actors on this stage – individuals, institutions and communities – can find their roles, empowerment and agency by reading these scripts of greater time dimensions, visioning with greater clarity, purpose and compassion, and drawing together art and politics in a new socio-dramatic intervention for this world stage. For unlike the stage, the script has not set in stone, it's an open-ended collaboration. If 'another world is possible', new stories will need to be invented and acted out for a new Gaian audience, encompassing both art in the WSF and the WSF as art.
Jose M. Ramos
References
Boal, A. Legislative Theatre, Routledge, NY, 1998
de Chardin, T. The Future of Man, Harper and Row, NY, 1964
Moyer, B. Doing Democracy, New Society Publishers, Gabriola Island, Canada, 2001
Thompson, W.I. 'Nine Theses for a Gaia Politique', In Context, Autumn, 1986 p58
---
Mail Commentary, email or seek in Fredsakademiet.dk